The elegant fern curl – every spring here in my garden the graceful unfurling of the new ferns begin.  They start as a tight spiral close to the ground and slowly uncurl before spreading into a leafy frond.  I only have a small collection (so far) as my shade garden is limited: I have two varieties of Japanese painted fern, a maidenhair fern and a hardy common variety that you see everywhere here along shady roadsides.
To me, the spiral is the most enchanting of nature's forms (or to let my inner math-geek shine through: the spiral as described by the Fibonacci sequence of numbers).  I find endless design inspiration from the spiral and fern curls in particular.  Here are just a few examples of our pieces inspired by the fern curl: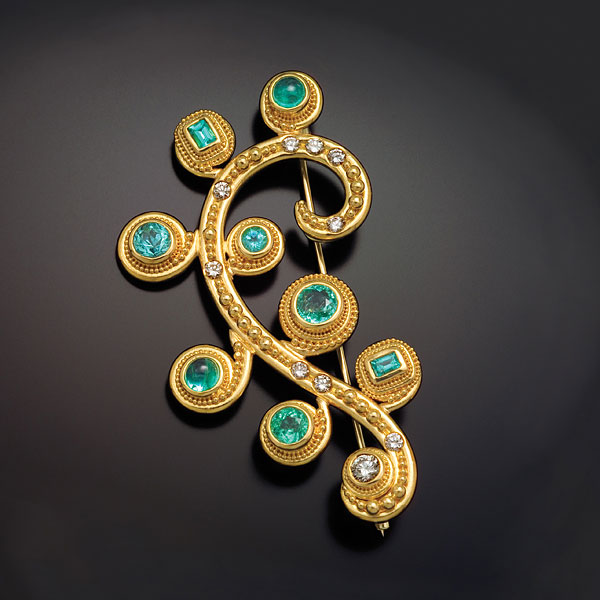 But did you know that the fern curl can nourish the stomach as well as the soul?  These wild harvested delicacies start showing up at farmer's markets here at the end of May.  They are anywhere from three-quarters of an inch to two inches in diameter, have a texture similar to asparagus, but are more subtle in flavor.  And like asparagus, they are best quickly steamed, blanched or sautéd.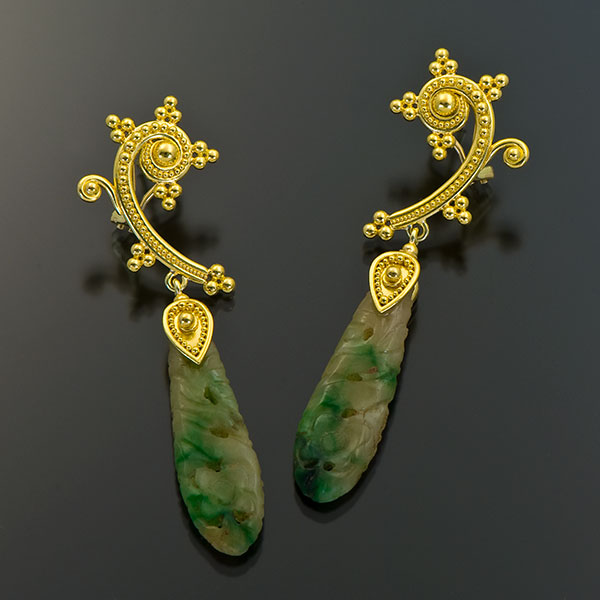 I think a simple preparation is best to let their flavor shine through which makes them the perfect star for a quick weeknight meal.  The following recipe can be adjusted to feed two or four just by altering the amount of pasta you cook.  We prepared the meal just for the two of us and had one serving of leftovers to reheat the next day.
Fern Curls, Mushrooms and Bacon with Bow-Tie Pasta
4 slices of bacon
1/2 pound of crimini mushrooms, sliced
2 cups fern curls
1 clove of garlic, minced
splash of white wine
juice of half a lemon
1/4 cup parmesan cheese plus more for garnish
Spanish paprika or hot pepper flakes
salt & pepper to taste
good quality olive oil
bow-tie pasta for 2 or 4
Heat a pot of water for the pasta and in a separate large skillet, cook the bacon, crumble and set aside.  Drain all but about a tablespoon of bacon grease and add mushrooms to the skillet, seasoning with a little salt and pepper and stir occasionally.  Meanwhile, cook the pasta to the package directions.  When the mushrooms are cooked through and and starting to brown lightly, toss in the garlic and stir frequently for about 30 seconds and then deglaze the skillet with a splash of white wine.  Next add the fern curls and stir until they turn bright green, about 2-3 minutes, add the lemon juice, stir to combine and remove skillet from heat.  Add salt, pepper and hot pepper (if desired- we like using hot Spanish paprika).  Put the cooked and drained pasta back in the pasta pot, drizzle with a little olive oil, toss to coat and stir in veggies and parmesan cheese.  Divide into bowls and garnish with a little more parmesan and serve immediately.  Enjoy!!